Asia Top 8 Flavours – Asian Flavours that run the world.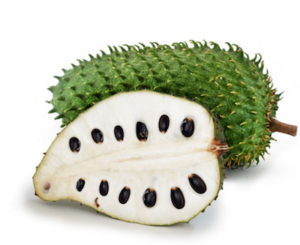 There's more besides Durian.
8. Durian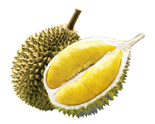 Durian is mystical fruit where some people thinks it's no different than a poop, but to some, eating durian is the same as striking gold, in fact, people who does Durian businesses would agree. China lately reported to have total imports surging 146 per cent to US$635 million in 2016 from five years ago. This indicated that the ever controversial flavour would continue to spike the food market. Green House Ingredient's Durian powder are now widely used in cookies, while the Durian Emulco has been used to make fruit fillings, custard fillings and cakes.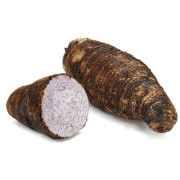 Yam (芋头yu tou) or Taro is nonetheless an iconic Asian flavour for desserts, especially in the Chinese community. It should not be mistaken as the sweet purple potato (紫薯) though both are tubers have similar colours after being cooked.  It gives out a distinctive nutty and creamy flavour, with a slight earthiness. Yam Emulco by Green House Ingredient yields a natural and flavour which gives lives to many pastries just by adding a small percentage of it in the recipe.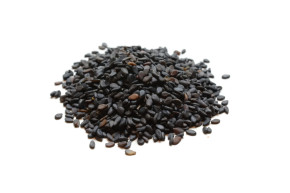 The black sesame has been made popular by Japanese desserts and the black sesame can be seen in almost different forms such as fillings, spreads, buns or even shaved ice (Kakigori or Bingsu). It seemed conventional and nothing special about this ingredient, but with its nice BLACK colour, it looked pretty cool on any food.
5. Sweet Potato (Purple and Orange)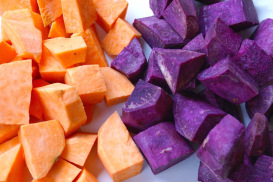 Sweet Potato (紫薯) is tuber similar to yam, but exist in either yellow, orange or purple with a deeper shade of red. Unlike yam, the sweet potato tasted similar to pumpkins, some would even say it's like potato but sweeter!  While we emphasizes on natural colours, the purple sweet potato pastries appear in almost all pastry shops!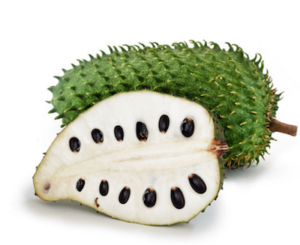 Famous among the Asian continents, the custard apple or soursop might be originated from tropical region of America. Though not sure, the Mandarin name of it (红毛榴莲 hong mao liu lian) may refer it as Westerner's Durian resembling the outlook of Durian. The fruit has a creamy texture like banana but taste like a citrus fruit, and has been widely used in beverages. This year, the fruit as become a rising star in food products. As the flavour of soursop can be quite mild sometimes, adding a drop or two Soursop flavour is the ideal way to give it an extra boost.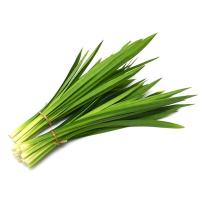 After being mentioned by famous Celebrity Chef, Nigella Lawson as the next biggest trend, the new green to replace Matcha, Pandan has started to steal a bit of the limelight. Pandan which has been used widely among the Asia countries has now more up to a world stage. The distinctive grassy yet delicate aroma is versatile in both savoury and sweet dishes. Green House Ingredient's Pandan and Pandan Coconut Emulco is being crafted to counter our customers' problem of inconsistency when it comes to using natural pandan in making food. The Emulco has the best aroma, flavour and colour that make up what has been losing or lacking.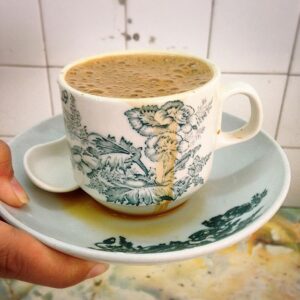 The word "White Coffee" is use to describe the coffee made from Ipoh, a small town by Hainanese settlements in Malaysia, which its beans are roasted in margarine, ground, brewed and served with sweetened condensed milk. Malaysia's White Coffee evolved to be a heritage of the town and the richness of the distinctive aroma and flavour are now infamous. Some of Green House Ingredient's Coffee Emulco are crafted based on the White Coffee taste profile, and this is nonetheless, it is one of our all-time best-sellers.
You might be wondering why but Jackfruit has finally went up to catch the attention of many, and this humble yellow fruits are so aromatic resembling honey with a floral note! The flavour is a great entry for people who would want to try exotic fruits! Many has tried to apply in culinary, pastries, ice creams and beverages!
---
Green House Ingredient manufactured many of the most interesting flavours around the world, in fact, Green House Ingredient nestled in Malaysia, a country with great diversity, we are confident that our recipes for the food flavourings have high authenticity and has top quality to be applied in all food products. As we conduct our market research and development, we observe trends of flavours and assist our customers to achieve their goals, providing best flavour solution to make the best foods for the mass market.