Food Pack Asia Exhibition 2021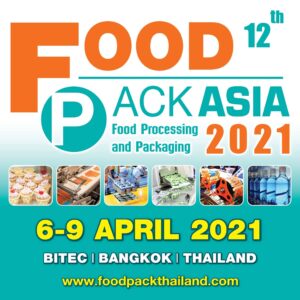 To some of the countries, it seems the situation of the pandemic is starting to settle down as the vaccination has been sent to most of the countries to demolish this Covid-19 pandemic. At the same time, the food industries are getting excited and hyped up for what will be coming up next! (Either do we!) Two days ago, we talked about the upcoming news of Wofex 2021 and on the same day, we've gotten news from our partner and it seems Food Pack Asia Exhibition is rising once again at this upcoming 6th of April!

If you are looking for a food solution, good quality machinery that produces food, and a partner, then this is the exhibition that you definitely wouldn't wanna miss out! It is an annual event that is consistently held at Bangkok's BITEC Exhibition Center where instead of Thai entrepreneurs, there are also business partners, sole distributors gather in this one specific venue from other different countries!
The Food Pack Asia Exhibition will be held at Bitec Bangna, Bangkok Thailand, commencing 10 a.m and ending at 7 p.m. We definitely recommend you to drop by and give your support to our partner, NC Bakery's booth which is set up at  J01 & J12! On that day, they will be displaying some of the well made desserts that are prepared by using our Green House Emulco!