Green House x Dairy Champ: Champion By Choice!
Green House Ingredient Sdn Bhd is established for more than 20 years and has been providing its food flavouring solutions to Malaysia and 15 other countries. We are known as the leader in Malaysia Baking Industry & also Top 4 in Malaysia Food Industry. Green House Flavour provide wide range of selections! (100+ Emulco flavours) and most importantly, offers customization of Emulcos. As a flavouring & colouring manufacturer, Green House Flavour attains HALAL, HACCP, MESTI & is ranked as a 4-star SME CORP. We are also awarded by the Golden Bull Outstanding SME Award, STAR & Sin Chew daily press.
In the pursuit of culinary perfection, the collaboration between Green House and Dairy Champ has emerged as a winning combination. With the tagline "Champion By Choice," Dairy Champ stands as the undisputed champion for creamers and evaporated milk, elevating the taste and texture of desserts, drinks, and dishes. This partnership is a celebration of excellence, where the finest flavors meet the creamiest textures.
Dairy Champ: A Champion's Choice for Creaminess
For those seeking tastier and creamier culinary experiences, Dairy Champ is the champion's choice. Their creamers and evaporated milk are crafted to perfection, enhancing the flavors of your favorite dishes for a truly satisfying experience. Whether in your daily coffee or tea, as a base for soups and sauces, or in the creation of desserts and spreads, Dairy Champ stands out as the epitome of quality.
The Perfect Match for Your Culinary Creations
Dairy Champ is not just a complement; it's an essential ingredient for anyone aiming to create culinary masterpieces. Its versatility shines through as it seamlessly integrates into various recipes, offering a creamy texture and a rich taste that transforms ordinary dishes into extraordinary delights.
Some ranges products of Dairy Champ
Images above credits here
Innovative Collaboration for Mother's Day
As Mother's Day approaches, Green House and Dairy Champ are proud to present a special treat for all the deserving mothers out there. Our talented pastry chef has crafted a unique menu featuring Heart Shaped Puff with Earl Grey. This delectable creation is made using Green House's new signature product, Earl Grey Emulco flavor, and Dairy Champ Malaysia Sweetened Creamer. Packed with vitamins and high in calcium, this special dish is a token of appreciation for mothers, capturing the essence of love and culinary artistry.
Join the Celebration:
Celebrate this Mother's Day with a culinary journey that combines the mastery of Green House and the creaminess of Dairy Champ. Explore the possibilities of flavor with #GreenHouseFlavoursColours, indulge in the creamy goodness of #DairyChampMalaysia, and embrace the culinary excellence that comes with #SweetenedCreamer and #EmulcoFlavour.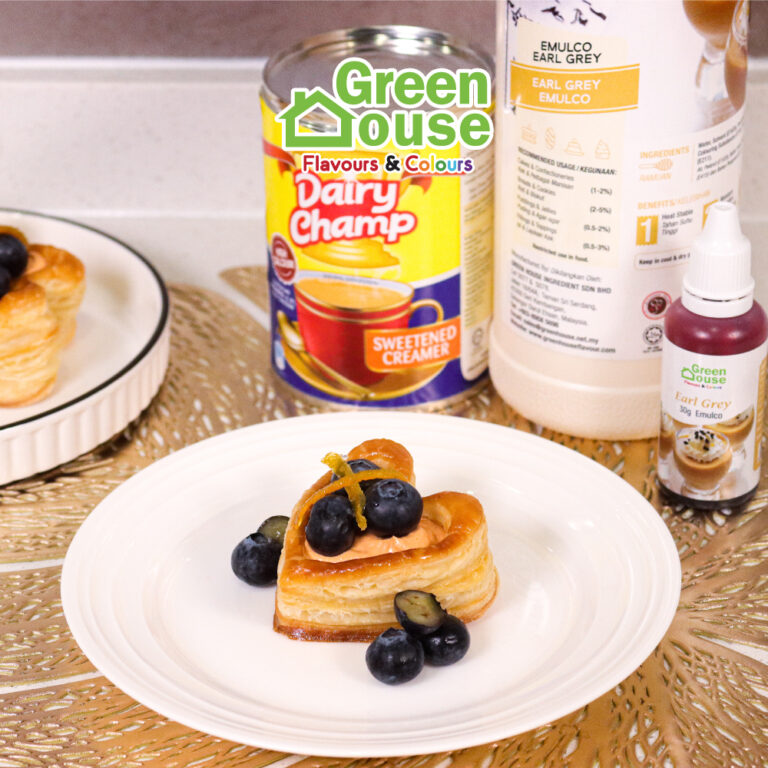 Green House Flavours & Colours are honored to be one of the first company brands that  initiate a collaboration between Malaysia F&B (Food & Beverages) companies. Our objective is to create a unity relationship within the B2B (business to business) industries and also to diversify Malaysia food, beverages and dessert trends not only for industries but also for end users. We look forward to cooperating with many other F&B brands! Let us know, if you are interested to join and be the next collaboration members! Meanwhile, follow Green House social media platform to get the latest update of our recent activities!
Website: https://greenhouseflavour.com/
Facebook: https://www.facebook.com/greenhouseflavours
Youtube: https://www.youtube.com/c/GreenHouseFlavoursColours