The Nan Yang Series by Green House: A Culinary Symphony of Malaysian Flavors
Green House Ingredient Sdn Bhd is established for more than 20 years and has been providing its food flavouring solutions to Malaysia and 15 other countries. We are known as the Top 1 leader in the Baking Industry & also Top 4 in the Food Industry. Green House Flavour provide wide range of selections! (100+ Emulco flavours) and most importantly, offers customization of Emulcos. As a flavouring & colouring manufacturer, Green House Flavour attains HALAL, HACCP, MESTI & is ranked as a 4-star SME CORP. We are also awarded by the Golden Bull Outstanding SME Award, STAR & Sin Chew daily press.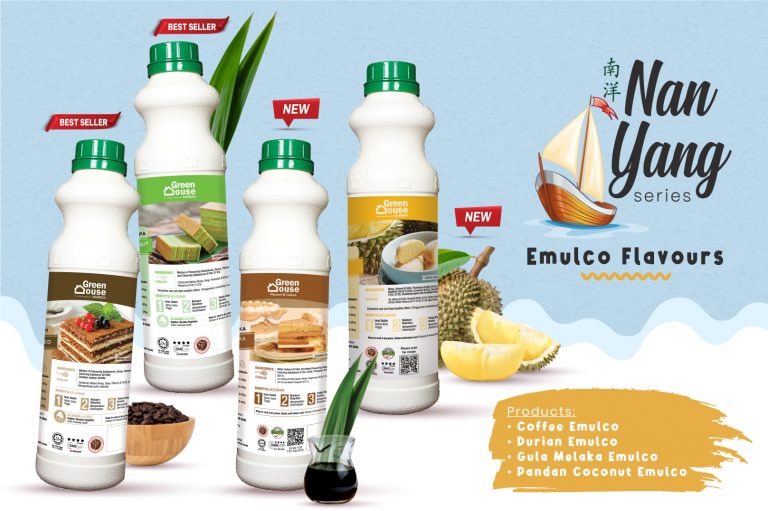 The Green House Flavours & Colours – Nan Yang series represents the company's dedication to both honoring tradition and enhancing Malaysia and SouthEast Asian's flavor. This lineup of emulcos serves as a delectable voyage, not only revering Malaysia's culinary legacy but also acquainting global palates with the enticing flavors and delightful aromas of Nan Yang cuisine.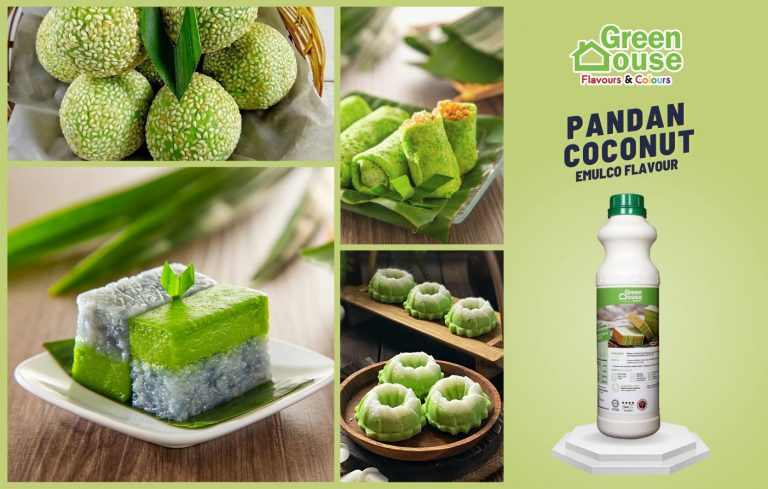 Pandan Coconut Emulco: 
The Pandan Coconut Emulco is a true embodiment of Malaysia's love for pandan coconut flavors. Pandan leaves, with their distinct fragrance, have been used for generations in Malaysian cooking. This emulco infuses the essence of pandan into a creamy coconut base. It's the perfect ingredient to recreate classic Malaysian desserts like Pandan Chiffon Cake, Ondeh-Ondeh, or Kaya Jam. With this emulco, the delicate balance of pandan coconut is at your fingertips.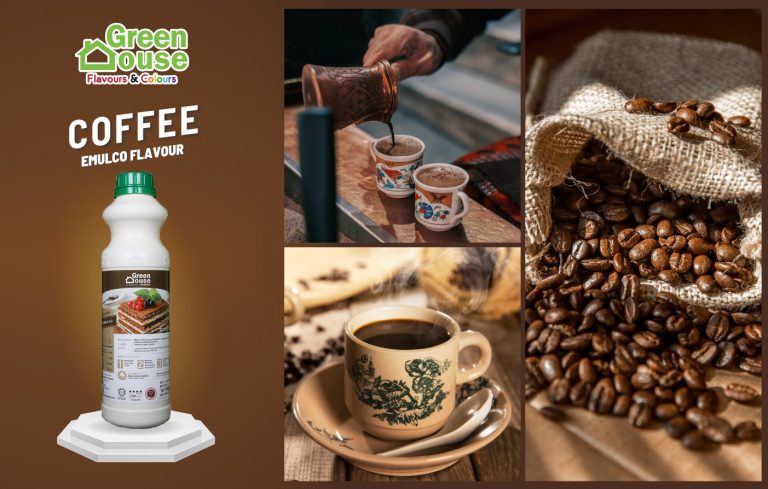 Coffee Emulco: 
Coffee culture runs deep in Malaysia, thanks to the influence of Chinese and Indian immigrants. The Coffee Emulco captures the essence of Malaysian coffee, often brewed with sweet condensed milk. Use it to create classic Malaysian beverages like Kopi O or Teh Tarik, or experiment with coffee-infused desserts that add a Malaysian twist to tiramisu or coffee-flavored cakes.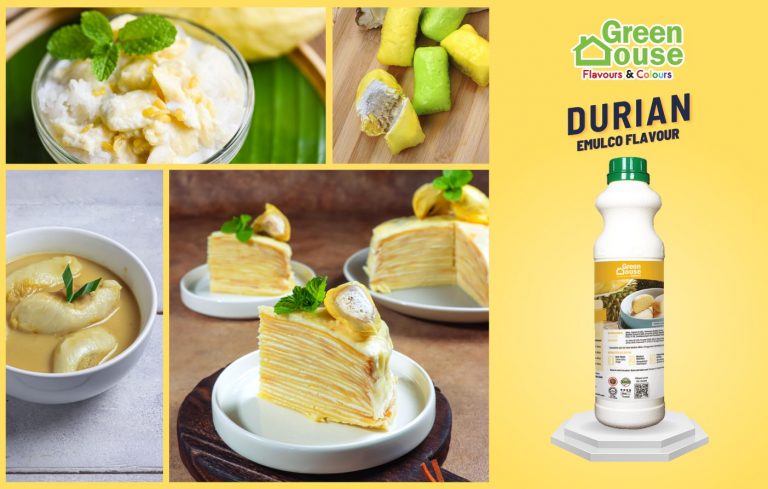 Durian Emulco: 
The Durian Emulco is for those who dare to embrace the "King of Fruits." Durian is a polarizing fruit known for its pungent aroma and unique custard-like texture. With this emulco, you can explore the rich, creamy flavor of durian without the strong smell. Try incorporating it into Durian Pancakes or Durian Ice Cream for a taste of this Malaysian delicacy.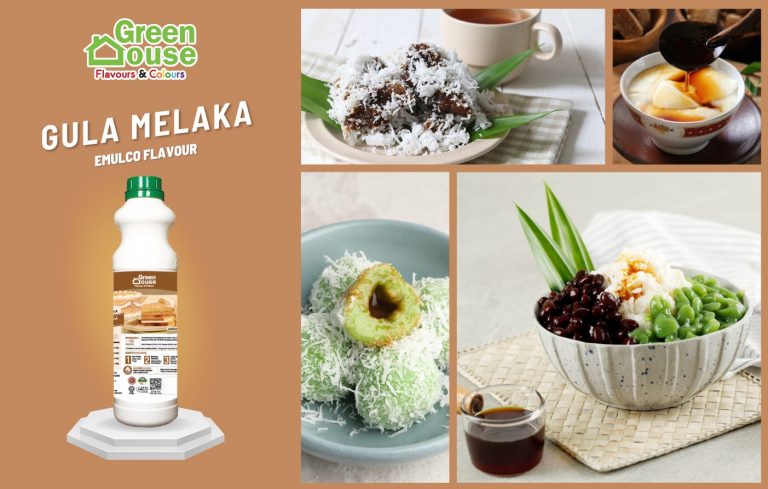 Gula Melaka Emulco:
Gula Melaka, or palm sugar, is a beloved sweetener in Malaysia. Its rich, caramel-like flavor is an integral part of traditional desserts and beverages. The Gula Melaka Emulco captures this essence perfectly, making it easy to add a touch of authentic sweetness to your creations. Use it to make the iconic Malaysian dessert, Cendol, or drizzle it over pancakes and ice creams for a true Malaysian indulgence.
The Nan Yang series by Green House Flavours & Colours offers not just emulcos but a gateway to Malaysian culinary traditions. These emulcos allow chefs and food enthusiasts worldwide to recreate authentic not only Malaysian dishes and desserts but also cover South East Asian, preserving the rich tapestry of flavors that make Asia's culinary heritage so special. With each emulco, you are able to embark on a culinary adventure that connects you to Asia's history, culture, and the soul of Nan Yang cuisine.
Apart from that, Green House also believes this new series is a golden opportunity to inspire Malaysia's F&B manufacturing sector to showcase Malaysia's distinctive flavors to the global market using the Nan Yang series by Green House. A good example can be seen through biscuit manufacturers – they have the potential to create their signature Nan Yang series products for export, setting themselves apart from other regional brands in terms of marketing and flavor. Malaysia, also known as "Malaysia Truly Asia," possesses the most ideal ingredients and a rich history to captivate the world's taste buds. Additionally, Green House also well-positioned to collaborate with any industrial factory that shares similar objectives and interests, fostering partnerships that drive mutual success!
Green House Flavours & Colours are honored to be one of the first company brands that  initiate a collaboration between Malaysia F&B (Food & Beverages) companies. Our objective is to create a unity relationship within the B2B (business to business) industries and also to diversify Malaysia food, beverages and dessert trends not only for industries but also for end users. We look forward to cooperating with many other F&B brands! Let us know, if you are interested to join and be the next collaboration members! Meanwhile, follow Green House social media platform to get the latest update of our recent activities!
Website: https://greenhouseflavour.com/

Facebook: https://www.facebook.com/greenhouseflavours
Instagram: https://www.instagram.com/green_house_ingredient/

Youtube: https://www.youtube.com/c/GreenHouseFlavoursColours