A Partnership that will Make Filipino Food Flavors Standout!
Green House Ingredient Sdn Bhd is established for more than 18 years and has been providing its food flavouring solutions to Malaysia and 15 other countries. We are known as the Top 1 leader in the Baking Industry & also Top 4 in the Food Industry. Green House Flavour provide wide range of selections! (100+ Emulco flavours) and most importantly, offers customization of Emulcos. As a flavouring & colouring manufacturer, Green House Flavour attains HALAL, HACCP, MESTI & is ranked as a 4-star SME CORP. We are also awarded by the Golden Bull Outstanding SME Award, STAR & Sin Chew daily press.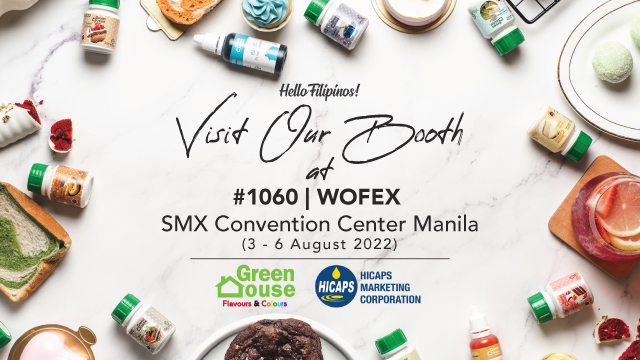 Malaysian Manufacturer Green House Ingredient Sdn Bhd have partnered with HICAPS Mktg. Corp. in Philippines to expand our business reach further.
Green House, a leading manufacturer of emulco food flavors and colors for the BARESCA (Bakery Restaurant Cafe) and other food industries, has been exporting to different countries in Asia.
Meanwhile, HICAPS Mktg. is well known provider of high-quality food ingredients in the Philippines.
In line with this partnership, Green House able to cater Emulco Flavors and Colors to more customers in the Philippines. Green House is committed to providing quality products and services to its customers. Hence with this partnership, we are determine to bring value and good quality products for our Filipinos customers.
HICAPS is excited to be working with Green House. The partnership will allow them to provide their customers with even more quality food and bakery ingredients. HICAPS is looking forward to a long and successful partnership with Green House. Together, they will be able to provide the Filipinos with prime food ingredients.
The Future of Food Flavors and Colors
We are excited to see what the future holds for this partnership. Green House and HICAPS have a lot to offer each other, and we are sure that they will be able to achieve great things together. We wish them all the best in their future endeavours.
This August, join HICAPS and Green House at the SMX Convention Center in Manila for the most significant food expo in the Philippines – WOFEX Manila 2022. Visit Booth #1060, for the latest food ingredients and flavorings innovations!