Award of the year – Golden Bull Outstanding SMES Award 2021
Green House Ingredient Sdn Bhd is established for more than 18 years and has been providing its food flavouring solutions to Malaysia and 15 other countries. We are known as the Top 1 leader in the Baking Industry & also Top 4 in the Food Industry. Green House Flavour provide wide range of selections! (100+ Emulco flavours) and most importantly, offers customization of Emulcos. As a flavouring & colouring manufacturer, Green House Flavour attains HALAL, HACCP, MESTI & is ranked as a 4-star SME CORP. We are also awarded by STAR & Sin Chew daily press.
Hurrays to Green House Ingredient for achieving Golden Bull Outstanding SMES Award! On the 5th of Nov 2021, an event was hosted by the Golden Bull Award dedicated to all those successful business entrepreneurs who have been performing well in their own respective business lines. However, what is about Golden Bull Award and why everybody wants to be nominated? For Chinese Asians, we believe bull contains the element of being calm and reliable. At the same time, bull is the strongest species, tough, independent and extremely hardworking that shows the quality of being an outstanding leader! They also believe that standing as a tripod with tenacious growth represents the symbol of being a bull!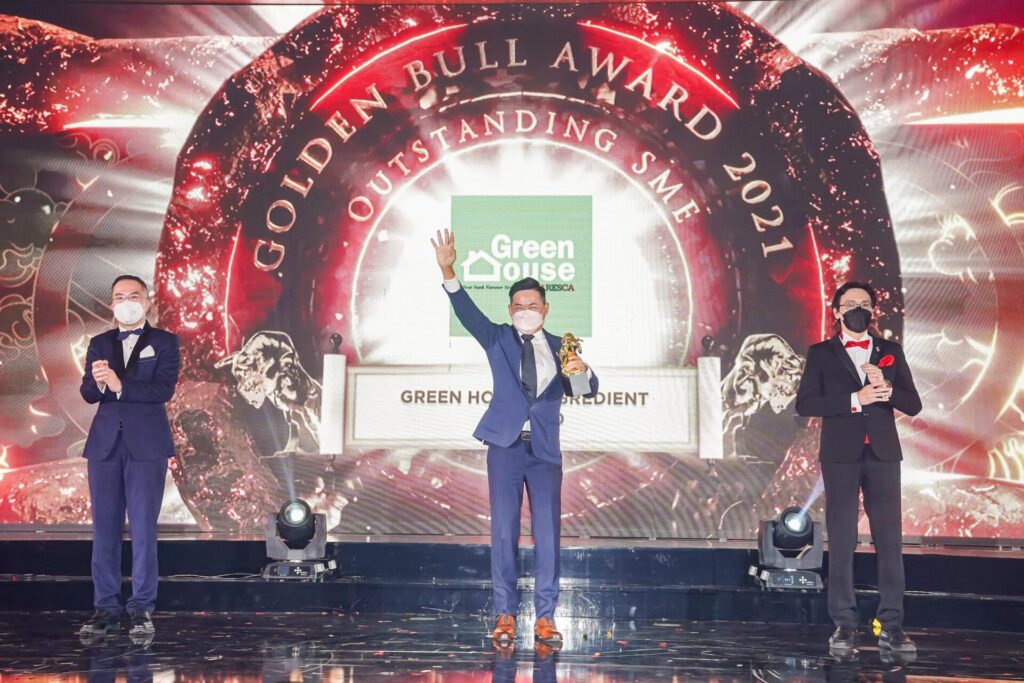 Since the year of 2003, the Golden Bull Award was recognized by the world to be an ultimate award earned by successful businesses, in a way to congratulate for years of continuous growth and constructing an intrinsic strength throughout a whole lot of challenges and obstacles. The Golden Bull awards are available for regional countries like Malaysia, Singapore, Taiwan and China. Likewise, the purpose of this award is served as a platform to benchmark successful business, bringing more inspirational vibes to startup companies, pushing them towards attaining greater Excellency.
Moreover, the value of the award emphasizes the promotion of well grown businesses and also to contribute economic prosperity by showing their sincerity while paying tributes to the efforts that is made out of hard work and commitments. The nomination is fair and they are to select according to the requirements that must be fulfilled through elimination process.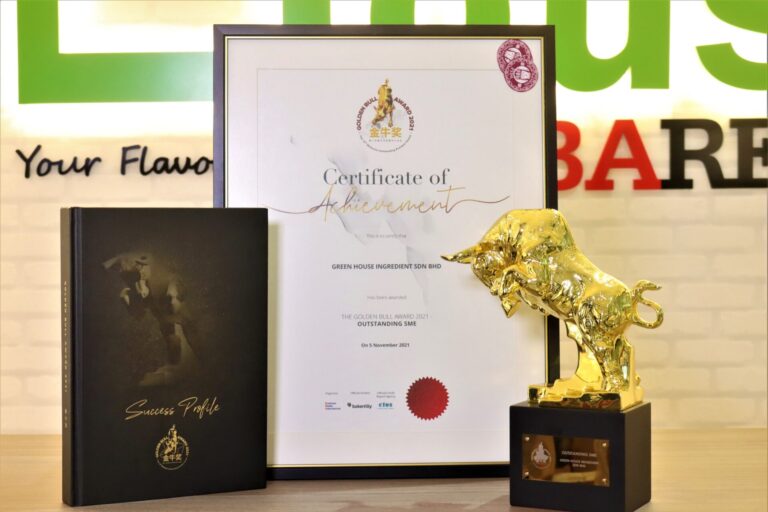 Since last year, ever since the pandemic has occurred, this does not stop Green House from improving better and better! Green House has been operating as usual and performing incredibly well by providing to this market what is needed during the pandemic. Proud to say, Green House has an amazing team that works closely together, constructing an indestructible bond, working with chemistry and providing innovative solutions to clients. Green House seeks to achieve the name of becoming world's leading flavour provider to the Bakery & Confectionary industries.
Finally, Green House Ingredient urge all entrepreneurs to be persistent, in whatever goals and objectives that you are currently pursuing. It is just a matter of time till you see the results that you have been expecting! Innovation is the always the key. We also believe that every business has their very own positioning in the market and that is extremely important, especially knowing your direction brings you to where you want to be. The Golden Bull Award brings inspiration and motivation to Green House to continuously becoming innovative and positioned us as the regional market leader of Food Flavouring Manufacturer throughout South East Asia. Stay tuned and stay updated to our news!