"EMULCO, Green House's significant flavouring product!"
Green House Ingredient Sdn Bhd is established for more than 18 years and has been providing its food flavouring solutions to Malaysia and 15 other countries. We are known as the Top 1 leader in the Baking Industry & also Top 4 in the Food Industry. Green House Flavour provide wide range of selections! (100+ Emulco flavours) and most importantly, offers customization of Emulcos. As a flavouring & colouring manufacturer, Green House Flavour attains HALAL, HACCP, MESTI & is ranked as a 4-star SME CORP. We are also awarded by the Golden Bull Outstanding SME Award, STAR & Sin Chew daily press.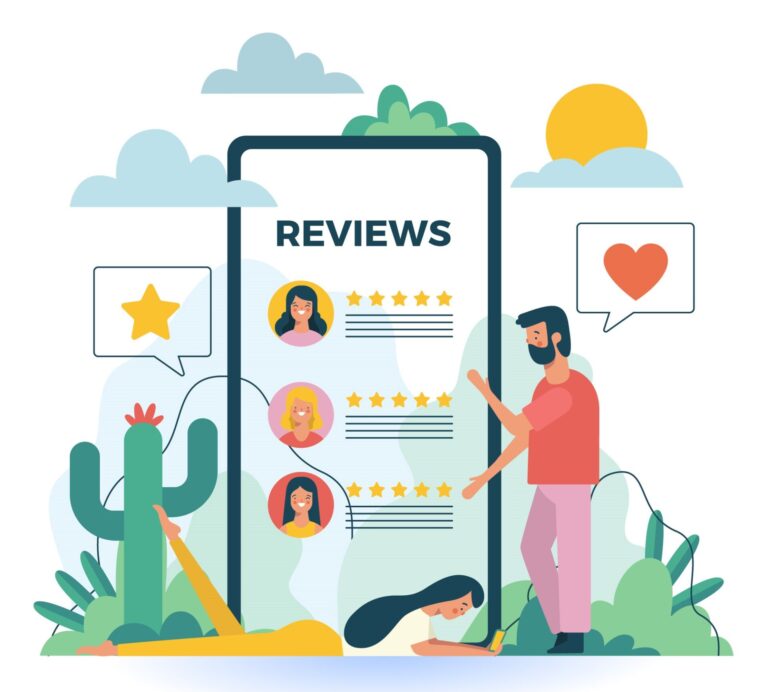 Today, we will be looking at some of our customer's feedback towards our products. Instead of just sharing how well our products are made, we will be exploring to seek proves from the people that have been supporting us constantly!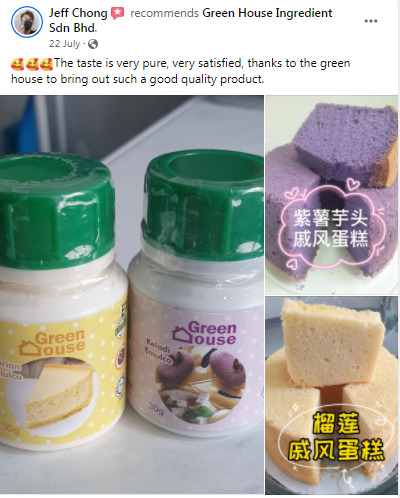 Mr Jeff Chong said, "The taste is very pure and satisfied, thanks to green house ingredient for bringing out such quality product."
We would like to thank you for all your support & for giving us the privillage to have you as our customer. Our products are natural-identical and can be used in baking as it is heat stable and prevent bakeries to become silky or watery.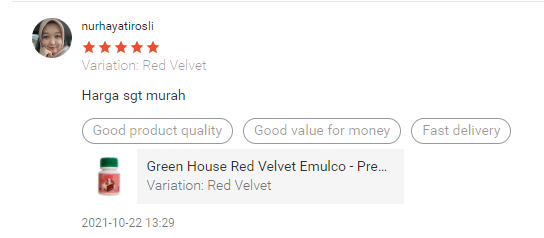 Ms Nurhayatirosli said, "Harga sangat murah"
I'd like to highlight one of the reason why our customers purchase our products as they are cost-saving and they are what we called the 2 in 1 Food Colouring & Food Flavouring. Hence, if you are to bake during your free time with your family or you loved ones, you do not have to purchase separately as this may cost you a lot and given information by some of our customers, you also do not have to waste your products if you require a small amount of it. We have a variety of different volumes i.e. 30g, 1kg, 5kg and 25kg based on your necessity. We also have a team of experts to teach you and guide you how much you need to apply based on your purpose using our flavourings through our latest implementation of QR code. By the scanning our QR code, you will be redirected to our YouTube channel.
From our YouTube channel, you will explore numerous recipes that is specially designed by our Pastry Chef for beginners in terms of bakeries or for those who are interested in baking but did not know how to do it. The recipe videos that we shared are extremely detailed as they are taken step by step based on the recipes invented. Hence, you would not have to worry that you might not catch up the footsteps or being confused while baking!

Our objective of digitalizing the system in this food industry is to provide values to the consumers where they could turn themselves into experts of baking by just learning our recipes through a simple scan of our QR code labelled on each small packaging GH products. Our founder, Mr Michael also found out that rather providing simples insutrctions on a piece of written paper, why not execute videos so that of bakers could learn more easily by just watching the video
Green House Ingredient's mission is to provide convenience and reliability to online customers through our O2O online platform. We took a huge leap in this project so everyone can become an expert of baking!
To visit our Youtube Channel, just click right on the link! (https://www.youtube.com/channel/UC_zN8s93dfOiNu4W7fkFxKg)