Forget about Unicorns and Avocado, Brace Yourself for the Pandan Fever!

Ever since Chef Nigella Lawson commented on the South East Asian's most darling flavour, Pandan became an overnight star, thanks to the aggressive shares and likes from fellow Pandan lovers on the news.
Pandan Leaves, also known as the Screwpine leaves is a hidden gem in Southeast Asia, often used with Santan (Coconut Milk) in wide varieties of dishes from curry to cakes. For decades, it has been used widely within the SEA regions and has become an essential ingredient in South East Asian Cuisine. Now, Pandan finally gained its fame recently in the Europe, UK and US market.
The leaves look no different from the other long-vined leaves but its hearty fragrance outstands among all and you will notice the plant's aroma if you have a chance to bump into the real plant. This offers great versatility of Pandan leaves in the culinary aspects besides one of its most significant role as natural air freshener. Regardless of the cooking method, adding pandan leaves into the any kind of food does raise the game! Pandan leaves plays an important role in the national dish of Malaysia – Nasi Lemak (Coconut Rice) as well as the national cake of Singapore – Pandan Chiffon Cake.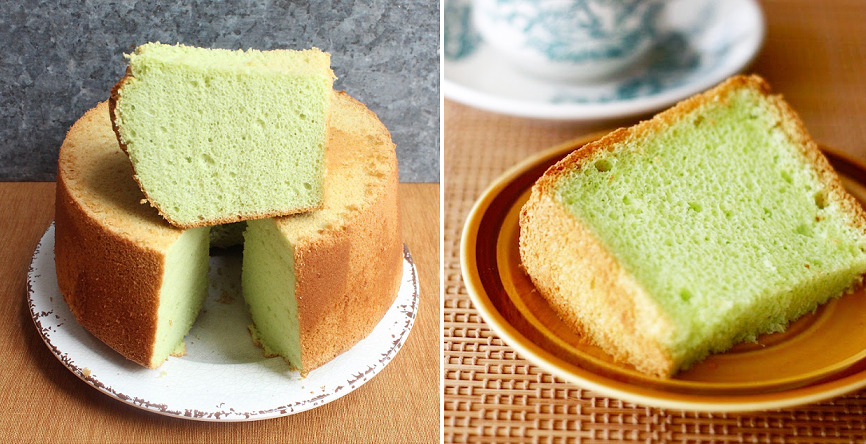 Fresh pandan leaves can be found in abundance within the South East Asia Region, and they are often used by adding a tied knot of the leaves as the Asian version of Bouquet Garni (A bundle of herbs) together with other ingredients in broths, soups, rice and etc to have the flavour infused. In other words, pandan does the trick in most of the Asian Cuisine, in place of herbs often found in Western Cuisine. Moreover, Pandan can also be used by blending the leaves with a little amount of water, and the Pandan juice produced are excellent in making desserts! On top of that, you can even deep fried the Pandan leaves as it exerts great flavour and aroma to the food the leaves come into contact with.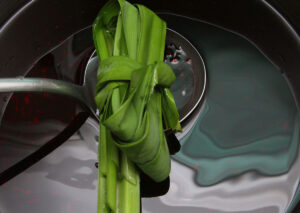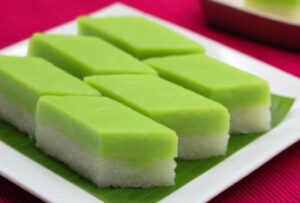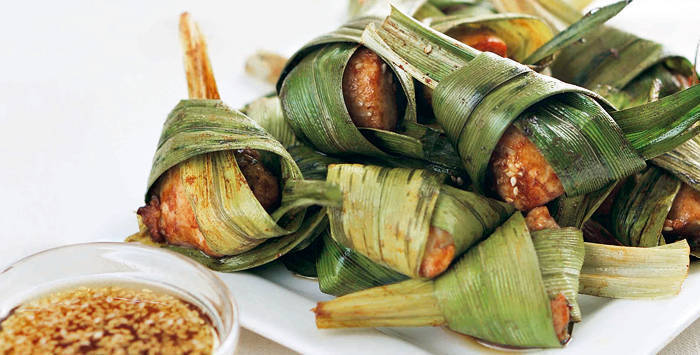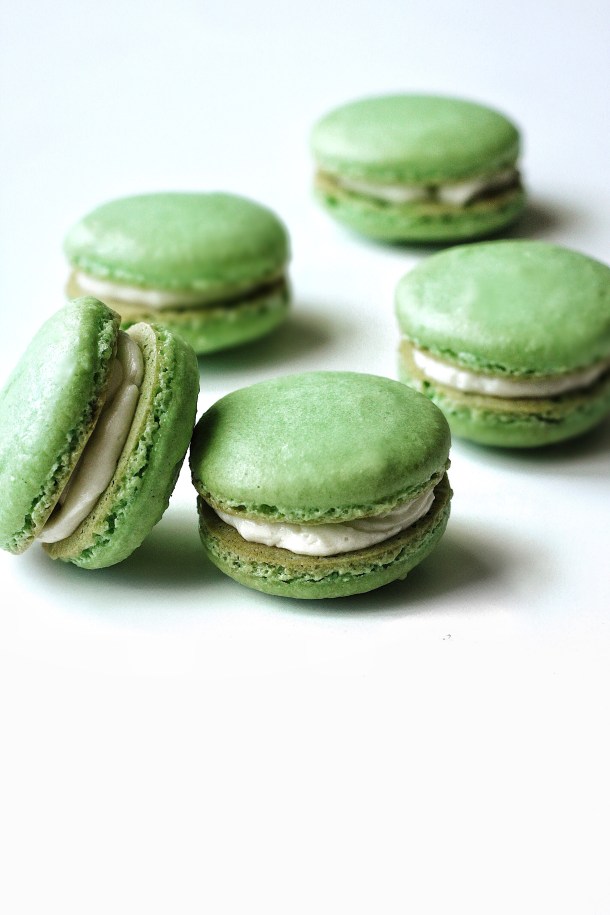 Pandan Assimilates Across Cultures 
Before Nigella mentioned about this culinary gem, people who travelled to South East Asia would have known about it; not to mention about the chefs or food worshippers who thinks the news was nothing special. Speaking about that, due the versatility of this ingredient in cooking, many Patissiers have already been assimilating the Asian and Western cultures in their culinary work such as Pandan Coconut Macaron, Pandan Crème Brulee, Pandan Inspired Entremets.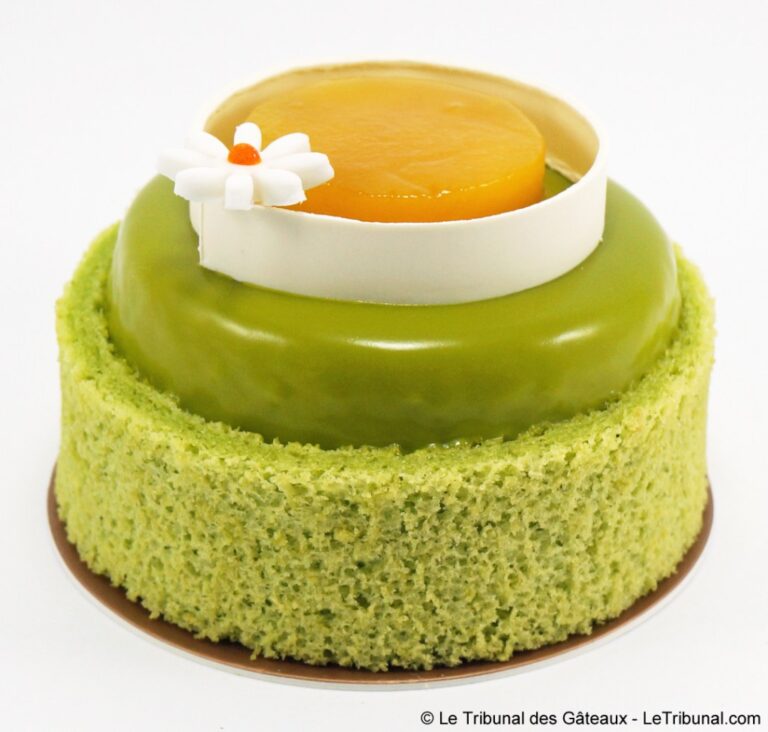 Pandan in Mass Food Production
Certain places sell the fresh Pandan leaves while some put the frozen leaves (frozen leaves losses some flavours, so need to be used more in cooking!) on shelves for home cook or small-scale cooking. As Pandan march its way to mass food production since the flavour gains enormous preference from the general audience, the sustainability and standardization would be the major challenge. To overcome the inefficiency to blend, filter and concentrate the Pandan Flavour from scratch as well as to standardize the organoleptic properties of the food products produced, commercial Pandan extracts and Pandan Paste or Emulco are widely available in Asia supermarkets.


Pandan essence or extracts are usually colourless or exist in a very light shades of green, added into food products in smaller amount to enhance the flavour. Pandan paste, or Emulco on the other hand, are thick syrup-like liquid, widely used in bakeries and pastries as it provides excellent pandan flavours and leaves a beautiful green colour. The amazing results brought out by Pandan paste/ Emulco in terms of flavour, texture and aroma with the emphasis of convenience has made the product prevailingly demanding by fellow culinary enthusiasts, bakers as well as food industry.
All in All, if you thought Pandan is just another plant, think again. While Nigella Lawson ignited the Pandan fever, these leaves are really SOMETHING. Beyond the South East Asia Region, these leaves (or maybe just the essence/extracts) can cost you greatly while in South East Asia, it's near to nothing (perhaps you can easily pluck it off from the backyard of your house!). So, next time when you have a foreign friend visiting South East Asia, don't forget to introduce them this extraordinary yet underrated flavour. Who knows, you might amaze them!
——————————————————————————————————————————————————————————————————————————-
Green House Ingredient with its 15 years of dexterity in manufacturing flavourings, has now introduced its top quality Pandan and Pandan Coconut Emulco to the world. Green House Ingredient's heat-stable Emulco delivers delicious baked goods with great flavour profile and moisture retention. On top of that, the product has been certified as Halal, which further affirmed its quality to cater the vast market.
Currently Available In: Malaysia, Indonesia, Vietnam, Hong Kong, Thailand, Singapore, and UK (Coming Soon).