Green House x COWA: Ingredients For A Better World
Green House Ingredient Sdn Bhd is established for more than 20 years and has been providing its food flavouring solutions to Malaysia and 15 other countries. We are known as the leader in Malaysia Baking Industry & also Top 4 in Malaysia Food Industry. Green House Flavour provide wide range of selections! (100+ Emulco flavours) and most importantly, offers customization of Emulcos. As a flavouring & colouring manufacturer, Green House Flavour attains HALAL, HACCP, MESTI & is ranked as a 4-star SME CORP. We are also awarded by the Golden Bull Outstanding SME Award, STAR & Sin Chew daily press.

Since 2014, COWA has captured Malaysian citizens' hearts by showcasing premium and healthy product values. Comes with the slogan "Ingredients For A Better World", they mainly focus on premium, vegan, healthy, organic, gluten free and many other products that are beneficial to promote a healthy body and lifestyle. COWA also care about the benefit of the community and also the environment. Their products are packed in an environmentally friendly packaging and able to preserve the natural taste and aroma of the coconut.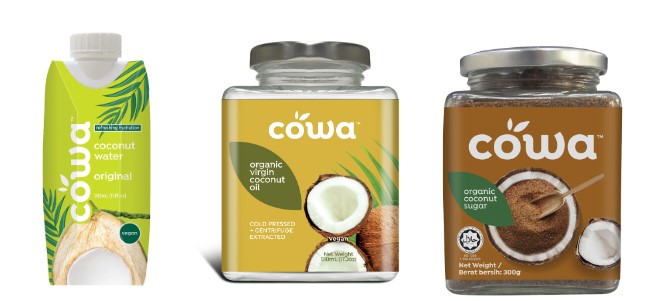 Some ranges of COWA products are Coconut Water, Organic Virgin Coconut Oil & Organic Coconut Sugar.
Some ranges of COWA products are Coconut Water, Coconut Juice, Organic Virgin Coconut Oil, Coconut Chips, Organic Coconut Sugar and many more. Their company is compliant with Halal by Jakim and also certified HACCP, FSSC 22000, ISO 9001, ISO 22000, Kosher, V-Label & Organic. This month's recipe collaboration, we have created Ruby Chocolate Pound Cake. We have incorporated Green House Ruby Chocolate emulco flavour and COWA Organic Virgin Coconut Oil. This recipe 
Green House Flavours & Colours are honored to be one of the first company brands that  initiate a collaboration between Malaysia F&B (Food & Beverages) companies. Our objective is to create a unity relationship within the B2B (business to business) industries and also to diversify Malaysia food, beverages and dessert trends not only for industries but also for end users. We look forward to cooperating with many other F&B brands! Let us know, if you are interested to join and be the next collaboration members! Meanwhile, follow Green House social media platform to get the latest update of our recent activities!
Website: https://greenhouseflavour.com/
Facebook: https://www.facebook.com/greenhouseflavours
Youtube: https://www.youtube.com/c/GreenHouseFlavoursColours