Green House x HEXA: Best Food Seasoning & Spices Manufacturer Malaysia since 1997
Green House Ingredient Sdn Bhd is established for more than 20 years and has been providing its food flavouring solutions to Malaysia and 15 other countries. We are known as the leader in Malaysia Baking Industry & also Top 4 in Malaysia Food Industry. Green House Flavour provide wide range of selections! (100+ Emulco flavours) and most importantly, offers customization of Emulcos. As a flavouring & colouring manufacturer, Green House Flavour attains HALAL, HACCP, MESTI & is ranked as a 4-star SME CORP. We are also awarded by the Golden Bull Outstanding SME Award, STAR & Sin Chew daily press.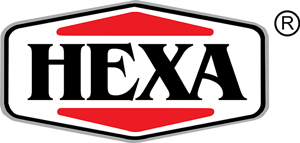 Hexa Food is a Malaysian company that specializes in the production and distribution of spices, herbs, and food ingredients. The company was founded in 1997 and has since grown to become a leading supplier of quality food products in Malaysia and other parts of the world. The company prides itself on its commitment to quality, innovation, and customer satisfaction. It uses only the finest ingredients in its products and employs quality control measures to ensure that its products meet the highest standards.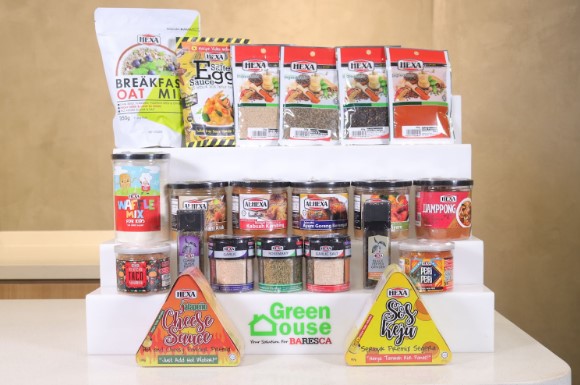 Some ranges of HEXA food products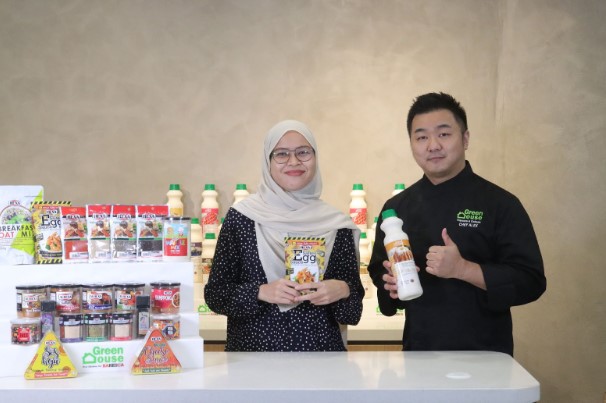 Hexa Food offers a wide range of products, including spices, herbs, seasonings, food coloring, sauces, and marinades. The company's products are used by professional chefs, home cooks, and food manufacturers alike. Overall, Hexa Food is a reputable and innovative company that is dedicated to providing high-quality food products and services to its customers.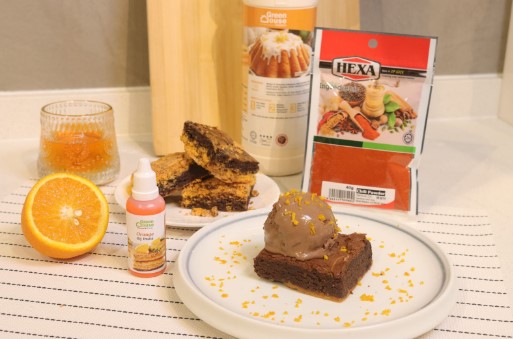 Thus, this month collaborations Green House pastry chef has come up with a bold recipe which is Orange Chocolate Brownies served with Chili Chocolate Ice Cream.Although the combination sounds odd, but it gives off an unexpected taste. In the recipe, there will be Green House Orange Emulco Flavour pairing with Hexa Chili Powder. If you dare to try out this recipe, click the following links for a full video recipe tutorial!
Green House Flavours & Colours are honored to be one of the first company brands that  initiate a collaboration between Malaysia F&B (Food & Beverages) companies. Our objective is to create a unity relationship within the B2B (business to business) industries and also to diversify Malaysia food, beverages and dessert trends not only for industries but also for end users. We look forward to cooperating with many other F&B brands! Let us know, if you are interested to join and be the next collaboration members! Meanwhile, follow Green House social media platform to get the latest update of our recent activities!
Website: https://greenhouseflavour.com/
Facebook: https://www.facebook.com/greenhouseflavours
Youtube: https://www.youtube.com/c/GreenHouseFlavoursColours