Green House x MyIce: The Gumpaste Artwork
Green House Ingredient Sdn Bhd is established for more than 20 years and has been providing its food flavouring solutions to Malaysia and 15 other countries. We are known as the leader in Malaysia Baking Industry & also Top 4 in Malaysia Food Industry. Green House Flavour provide wide range of selections! (100+ Emulco flavours) and most importantly, offers customization of Emulcos. As a flavouring & colouring manufacturer, Green House Flavour attains HALAL, HACCP, MESTI & is ranked as a 4-star SME CORP. We are also awarded by the Golden Bull Outstanding SME Award, STAR & Sin Chew daily press.

Selamat Hari Raya! Welcome back to our collaboration series, Green House x MyIce Food Solution Sdn Bhd. MyIce has been established since the year of 2013. Their product range is mainly focused on two types. Firstly, fondant and gumpaste for cake decoration. Secondly are dry powder premixes such as royal icing premixes, meringue premixes, florentine premixes and so much more. Their products are certified with Halal and Mesti. The specialty of MyIce fondant is able to avoid humidity compared to the other brand and also low in sugar. Gumpaste and fondant are both popular cake decorating materials, but they have some differences. Fondant is made from sugar, water, and glucose syrup or corn syrup, while gumpaste is made from icing sugar, water, and gum paste (such as gum tragacanth or gum arabic).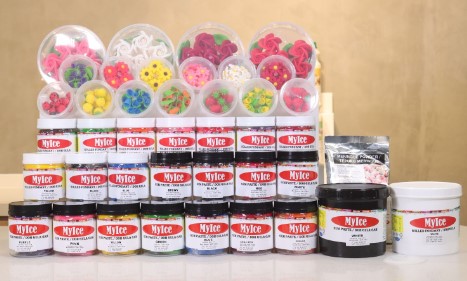 Some ranges of MyIce products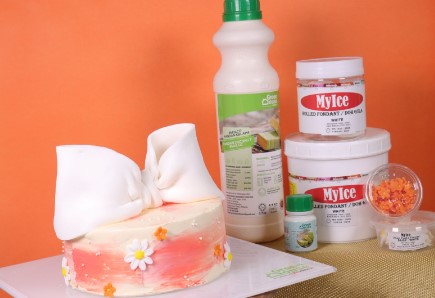 In conjunction with Father's day celebration, Green House pastry chefs have created an Ins Style Buttercream Cake using MyIce White Fondant, MyIce Flower Gum Paste and pairing with Green House Pandan Coconut Emulco. Want to know what the end product looks like? Click the following link to watch the full video tutorial of the recipe!
Green House Flavours & Colours are honored to be one of the first company brands that  initiate a collaboration between Malaysia F&B (Food & Beverages) companies. Our objective is to create a unity relationship within the B2B (business to business) industries and also to diversify Malaysia food, beverages and dessert trends not only for industries but also for end users. We look forward to cooperating with many other F&B brands! Let us know, if you are interested to join and be the next collaboration members! Meanwhile, follow Green House social media platform to get the latest update of our recent activities!
Website: https://greenhouseflavour.com/
Facebook: https://www.facebook.com/greenhouseflavours
Youtube: https://www.youtube.com/c/GreenHouseFlavoursColours