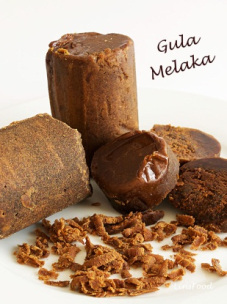 Gula Melaka was famous since back then. It is a type of sweetener derived from different variety of palm tree. It has a butterscotch, toffee like flavour with a hint of saltiness coconut taste. Gula is known as sugar in English, which the most savory Gula Melaka is from Malacca state. Back then, Malacca was the states were most of the Baba Nyonya race accumulated. They like to use Gula Melaka in dishes but mainly in the local desserts and cakes of the Southeast Asian region. . Besides, Gula Melaka most favour by the Malaysian especially when it melt in the mouth with strong the roasted caramelize coconut palm taste.
Make a Gula Melaka was tedious and the result may not consistence. It took along hour to boil the nectar of the flower bud of a coconut palm till it thickness and become syrup. As the result, different flower bud will give different taste therefore it is not consistence. Some even think to travel to Melaka just to get a perfect taste of Gula Melaka for the dessert.  Because of numerous reasons, Greenhouse had solved the problem of consumer by introducing Gula Melaka Emulco. Which costumer could taste the familiar taste from the hometown anywhere without travelling far.
What is special about our Gula Melaka Emulco other than flavour and colour, Emulco it self could maintain the moisture in bakery products, providing a excellent result of aroma and mouthfeel.  Check out recipe at Greenhouse recipe book.