"Things you should know about Kuih Raya"
We all know during certain festivals, there would be cookies or pastries that you should probably get prepared at your home when you welcome people to your house. For example chinese new year, we have pineapple tarts, honeycomb cookies, fried arrowhead chips and more. Same goes to Kuih Raya! Kuih Raya is a must-have during Hari Raya Festival, and it definitely can't be missed out! So basically today we will be sharing with you some of the well-known cookies that our malay friends would normally eat during Hari Raya.
Semprit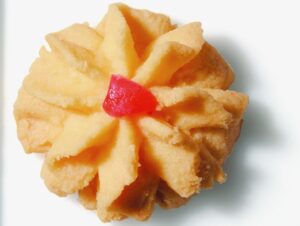 A sweet custard cookie that is made with the combination of wheat flour, corn starch, custard powder, sugar and margarine. It is then formed a dough and is rolled out and cut off into small pieces, which will then be baked into golden brown colour. It contains high content of buttery flavour and definitely best to be taken dipped into coffee or tea when you eat it!
Biscuit Dam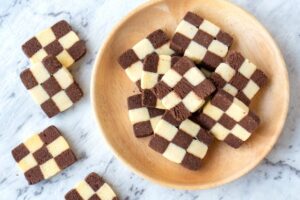 A checkerboard-designed cookie that its pattern of vanilla and chocolate dough is arranged in a particular sequence. It is usually served after several minutes of baking or can be stored in the refrigerator for later.
Cornflakes Madu
Crispy cornflakes along with some coated honey, adding favorite toppings depending on your liking. It is extremely easy to be prepared and is an excellent choice to be served on table while having an in-house party!
Kuih Karas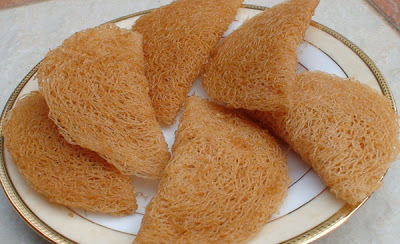 One  of the famous pastries that you would find in Kedah! Usually, they can be found from Kota Setar district and it is suitable to be grabbed during tea time or break time. (If you are working hehe) It's flaky, hair-thin pieces are made from rice flour and is crispy-ish! Worth a try especially when you are travelling to Kedah!
Sarang Semut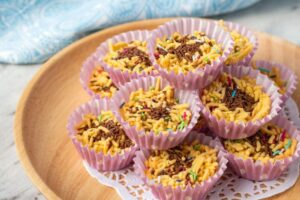 Sarang Semut, known as Ant's Nest Biscuit in English, oftens favoured by the locals although the name of its name could be real odd. However, when you took a bite of it, really it will gives you a remarkable nostalgic sensation. It is made off plain flour, custard flour, butter and sugar! For the topping, it could be sprinkled with some chocolate rice toppings or any other toppings that you preferred!
Biskut Mazola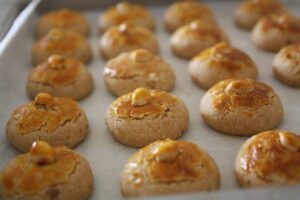 My 2nd favorite of all times, consists of grounded peanuts combined with wheat flour, and it then rolled into little balls that will eventually heighten your mouth feel, giving you a melt-in-the-mouth sensation that is baked into perfection.
Therefore, these are some of the kuih raya that you will commonly see or could get yourself some from nearby street hawkers during Ramadan or Raya! If any of it matches your appetite, get it quickly before anyone rushes to it as our country is still having the pandemic outbreak. It is best for you to stay distant from strangers and wash your hands always! We see you on the next article!