Japanese Melon Emulco - 1kg:
Japanese Melon Mousse Cake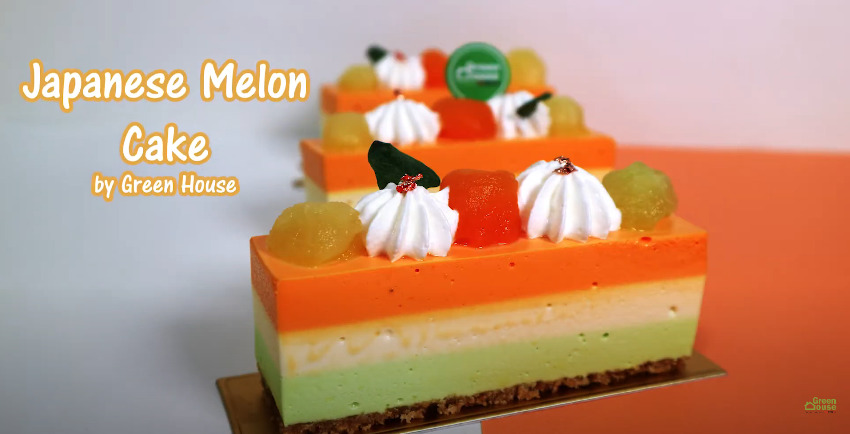 Base
80gm Digestive Biscuits
40gm Unsalted Butter
Cheese Mousse
200gm Cream Cheese
80gm Caster Sugar
2nos Egg Yolk
12gm Gelatin Powder
100gm Milk
100gm Whipping Cream
100gm Topping Cream
4gm GH Japanese Melon Emulco
4gm GH Vanilla Flavour
4gm GH Lime Emulco
Base
1. Mash the digestive biscuits until finely.
2. Melt the butter and mix into the mashed digestive biscuits.
3. Wrap the square ring with cling film and pour in the digestive biscuits; press evenly. Chill in the fridge for 15 minutes.
Cheese Mousse
1. Mix the gelatin powder with milk and set aside for later use.
2. Beat the cream cheese and sugar till creamy and smooth.
3. Double-boil the milk mixture and mix in egg yolk.
4. Pour the egg mixture into cream cheese and mix well.
5. Whisk topping cream until medium peak. Whisk the whipping cream until soft peaks. Fold together.
6. Fold the creams into the cream cheese mixture.
7. Add in GH Vanilla Flavour. Fold well.
8. Separate into 3 bowls. One bowl mix with GH Lime Emulco and one mix with GH Japanese Melon Emulco.
9. Pour the lime mousse onto the base and chill in the freezer for 10 minutes.
10. Follow by adding vanilla mousse on top of the lime mousse and chill for 10 minutes.
11. Last, pour in the japanese melon mousse and chill for 2 hours.
12. Remove from the mould. Cut into 5 pcs.
13. Decorate with some cream and fruits.