Japanese Melon Emulco - 1kg: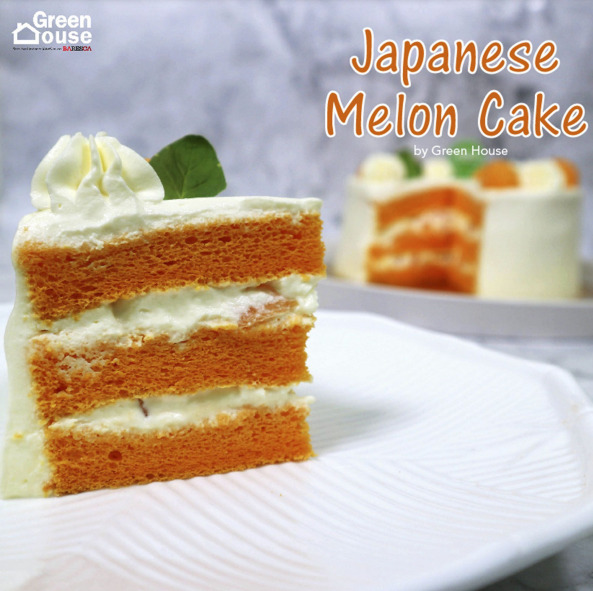 Japanese Melon Sponge Cake
36gm Unsalted Butter
54gm Milk
7gm Honey
108gm Egg Yolk
143gm Egg White
87gm Caster Sugar
69gm Cake Flour
10gm GH Japanese Melon Emulco
Mascarpone Chantilly Cream
75gm Mascarpone Cheese
30gm Caster Sugar
300gm Whipping Cream
AN Melon Fruit
Japanese Melon Sponge Cake
1. Warm up the unsalted butter, milk and honey, stir until well combined.
2. Double – boil the egg yolk, beat it until smooth.
3. Next, beat the egg white and add in sugar until fluffy then add in the warm egg yolk and mix until well combined.
4. Add in cake flour and melted mixture and mix it well.
5. Add in GH Japanese Melon Emulco respectively, mix until well combined.
6. Pour the japanese melon batter into the cake tin and bake at 180°C for 15 minutes.
7. After baking, leave it cool aside. then , cut the top of the cake.
Mascarpone Chantilly Cream
1. Mix in whipping cream, mascarpone cheese and caster sugar together, beat it until hard peak.
2. Place the japanese melon sponge cake, then spread the mascarpone chantilly cream with diced melon fruit, layer by layer. Repeat the step till the 3 pieces of japanese melon cake. Last but not least, put the melon fruit, mascarpone chantilly cream and oregano leaves as a garnishing.
3. Chill for 30 minutes and you're ready to eat.