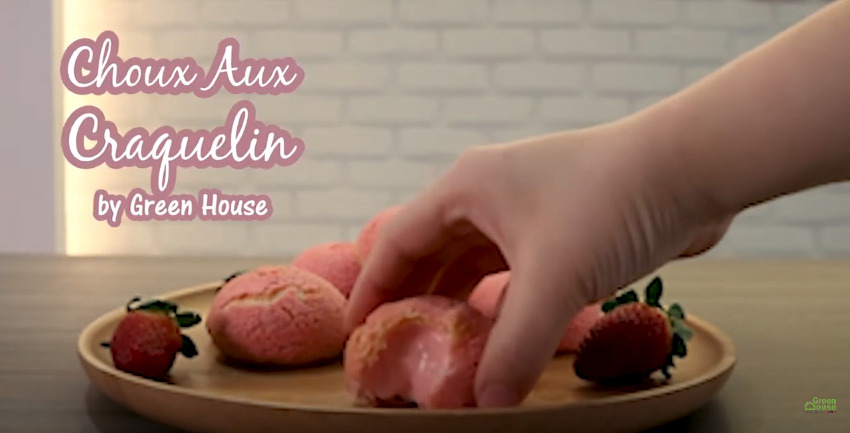 Cookies Dough
57gm Unsalted Butter
38gm Icing Sugar
38gm Cake Flour
19gm Bread Flour
¼ tsp GH Strawberry Emulco
Choux
75gm Milk
75gm Water
75gm Unsalted Butter
5gm Caster Sugar
5gm Salt
100gm Bread Flour
150gm Eggs
1 tsp GH Vanilla Flavour
Custard Cream
125gm Milk
8gm Unsalted Butter
2 nos Egg Yolk
24gm Caster Sugar
4gm Cake Flour
6gm Corn Flour
150gm Whipping Cream
GH Strawberry Emulco
Cookies Dough
1. Mix the unsalted butter and icing sugar till creamy.
2. Add in cake flour and bread flour, mix well.
3. Pour in GH Strawberry Emulco; mix till well combined.
4. Place the dough onto parchment paper. Use another parchment paper on top of the dough and roll until it is evenly.
5. Use a round cutter to chop and let it chill in the freezer for 10 minutes.
6. Remove it from the parchment paper and set aside for later use.
Choux
1. Preheat the oven to 180°C. Line up a baking tray with parchment paper.
2. In a saucepan, add in the milk, water, unsalted butter, caster sugar and salt. Heat up until starting to bubble. Remove from the heat.
3. Add in the bread flour and keep stirring until well combined.
4. Continue to cook over a medium heat, keep mixing the dough in the pot in order to let the dough to cook. Cook until the pot is sticky, then remove from the heat.
5. Keep stirring to let the dough cool down. Once the dough becomes warm, slowly add in eggs and keep mixing until well combined.
6. Place the batter into a piping bag with a round tip nozzle. Pipe onto the tray like 3 cm diameter. Put the cookie dough onto each pipe batter.
7. Bake for 30 minutes. After that, switch off the oven and open up the oven door. Let it cool down in the oven for 20 minutes.
8. Remove from the oven, it cools down completely.

Custard Cream
1. In a saucepan, add in milk, unsalted butter and half of the caster sugar. Let it boil.
2. Mix the egg yolk with the rest of caster sugar; mix until slightly pale. Add in the cake flour and corn flour.
3. Pour the hot milk into the egg mixture and mix well.Pour back the mixture into the saucepan. Continue to cook over a low heat and keep stirring until it is getting thicken.
4. Remove from heat and pour the custard onto a bowl. Cover it with cling film and keep in the chiller to cool down for later use.
5. Whisk the whipping cream until soft peaks. Then, fold the whipped cream into custard and add in GH Strawberry Emulco.
6. Place the custard cream into a piping bag.
7. Make a hole at the bottom of each choux. Pipe the custard cream into it. Dust with some snow powder on top. Serve well.