Pandan Coconut Emulco - 30g: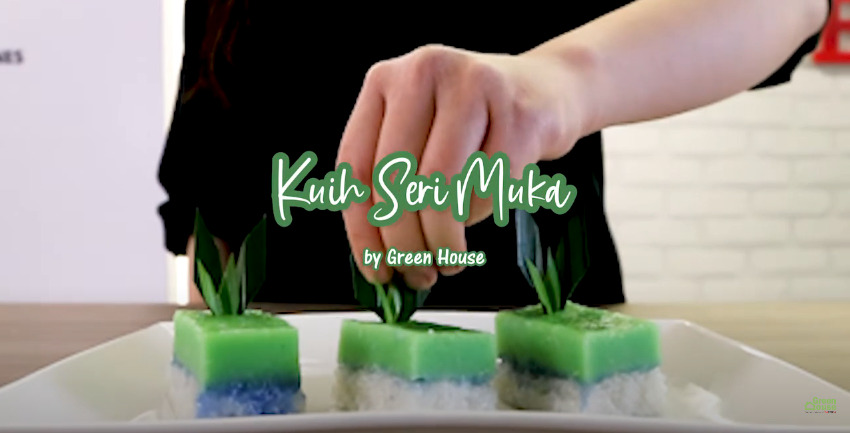 Steamed Rice
250gm Glutinous Rice
140gm Coconut Milk
50gm Caster Sugar
2gm Salt
5gm Butterfly Pea
10gm Water
Custard Filling
75gm Eggs
50gm Caster Sugar
50gm Water
200gm Coconut Milk
60gm Cake Flour
15gm Tapioca Flour
1gm Salt
2 tsp GH Pandan Coconut Emulco
Steamed Rice
1. Soak the glutinous rice overnight. Drain it and steam for 40 minutes.
2. Soak the butterfly pea in the water for 15 minutes.
3. Heat up the coconut milk, caster sugar and salt together.
4. Add in the steamed glutinous rice into the coconut milk mixture. Simmer for 15 minutes.
5. Line up a square cake tin with parchment paper, press the glutinous rice into the cake tin. Place some butterfly pea water onto the rice.
6. Steam another 15 minutes. Set aside for later use.
Custard Filling
1. Whisk the egg, caster sugar and salt well.
2. Add in the water, coconut milk and GH Pandan Coconut Emulco.
3. Mix in cake flour and tapioca flour.
4. Cook the mixture to slightly thick over a low heat.
5. Pour the mixture on top of rice. And steam for 40 minutes.
6. Let it completely cool down. Use a plastic knife to cut into desired size. Serve well.