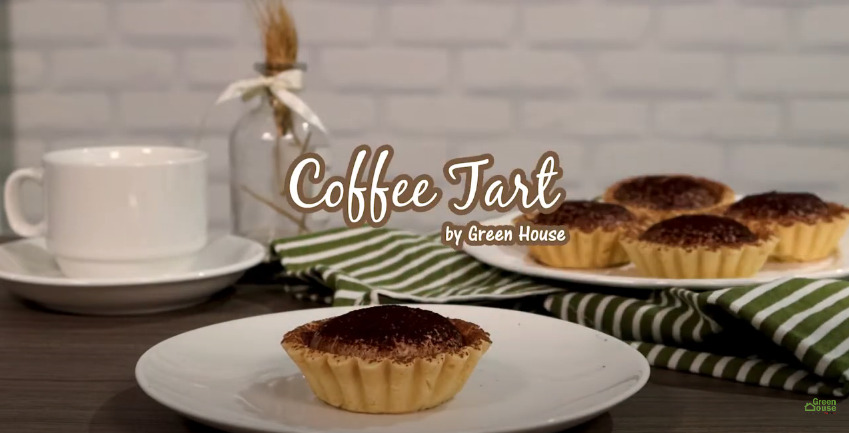 Tart Shell
100gm Unsalted Butter
50gm Icing Sugar
14gm Egg
150gm Cake Flour
½tsp GH Vanilla Flavour
20gm Dark Chocolate
Coffee Mousse
1nos Egg Yolk
37gm Caster Sugar
22gm Water
195gm Mascarpone Cheese
120gm Whipping Cream
1tsp Coffee Emulco
50gm Cocoa Powder
Tart Shell
1. Beat the unsalted butter and icing sugar well together.
2. Add in eggs and GH Vanilla Flavour; mix well.
3. Last, mix in the cake flour.
4. Chill the dough for 30minutes.
5. Flatten the dough until 1cm thickness, use round cutter to chop out and place the chopped dough into tart mould. Use a fork to poke holes on the tart shell.
6. Let it chill for another 10minutes.
7. Bake at 180°C for 15minutes.
8. Let it cool down and unmould it.
9. Coat a thin layer of melted chocolate on top of each tart shell and set aside for later use.
Mascarpone Mousse
1. Whisk the whipping cream until soft peaks. Leave it aside for later use.
2. Place the egg yolk,caster sugar and water together in a bowl. Double-boiled it over a pot, keep whisking until it becomes pale.
3. Remove from heat, keep stirring until slightly warm. Place in mascarpone cheese and mix well.
4. Mix in the GH Coffee Emulco.
5. Fold the whipped cream into the coffee mixture. Place the mousse into a piping bag.
6. Pipe the mousse into the tarts as desired.
7. Let it chill in the fridge for 20 minutes.
8. Dust with some cocoa powder and serve well.