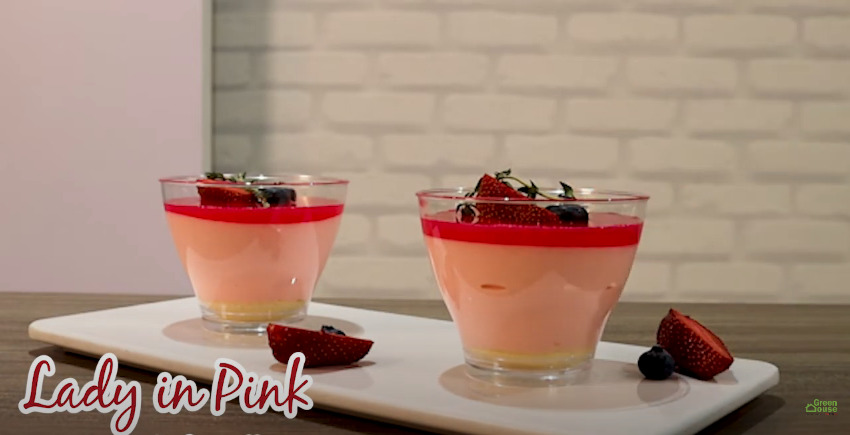 Mascarpone Mousse
4 nos Egg Yolk
40gm Caster Sugar
180gm Mascarpone Cheese
10gm Gelatin Sheet
250gm Whipping Cream
½ tsp Strawberry Emulco
Strawberry Sauce
125gm Lemon Juice
125gm Caster Sugar
25gm Corn Flour
1 tsp Strawberry Emulco
Mascarpone Mousse
1. Soak the gelatin sheet into ice water. After the gelatin sheet is soft, then squeeze it out and place aside for later use.
2. Whisk the whipping cream until soft peaks. Leave it aside for later use.
3. Place the egg yolk and caster sugar together in a bowl. Double-boiled it over a pot, keep whisking until it becomes pale. Add in the gelatin sheet and continue whisk until the gelatin sheet is melted.
4. Add in mascarpone cheese and mix well.
5. Mix in the GH Strawberry Emulco.
6. Fold the whipped cream into the strawberry mixture. Place the mousse into a piping bag.
7. Place the sponge into the cup, pipe the mousse into the cups as desired.
8. Let it chill in the fridge for 20 minutes.
Strawberry Sauce
1. Mix the lemon juice, caster sugar and corn flour together in a pot.
2. Cook the mixture until it becomes slightly thicken.
3. Add in GH Strawberry Emulco and mix well. Let it cool down in the fridge for 10 minutes.
4. Place the sauce onto the mousse and decorate with fruits. Serve well.