Brown Sugar Emulco - 1kg: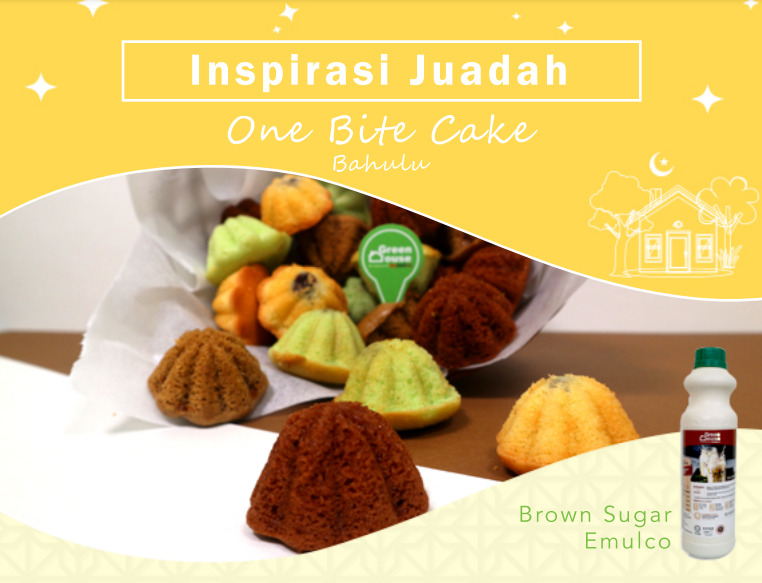 Part A: Brown Sugar Custard
25gm Instant Custard Powder
75gm Milk
2gm GH Brown Sugar Emulco
Part B: Bahulu
2nos Eggs
90gm Caster Sugar
1gm Salt
68gm Cake Flour
18gm Soda Water
1gm GH Vanilla Flavour Emulco
6gm GH Brown Sugar Emulco/ Pandan Coconut Emulco
Part A
1. Mix instant custard powder and milk, stir it well. Pour GH Brown Sugar Emulco and stir until mixed well.
2. Place the brown sugar custard into a piping bag. Set aside for later use.
Part B
1. Whisk eggs, sugar and salt until fluffy.
2. Add in cake flour and GH Vanilla Flavour Powder, mix well.
3. Mix in the soda water until well combined.
4. Spray cooking oil and heat the mould for 2 minutes.
5. Pipe the half amount of batter into the prepared mould, then pipe in the custard and repeat to pipe the batter to cover the custard.
6. Bake at 200°C for 12 minutes.Put into the plate/ container, and you're ready to serve. Enjoy!