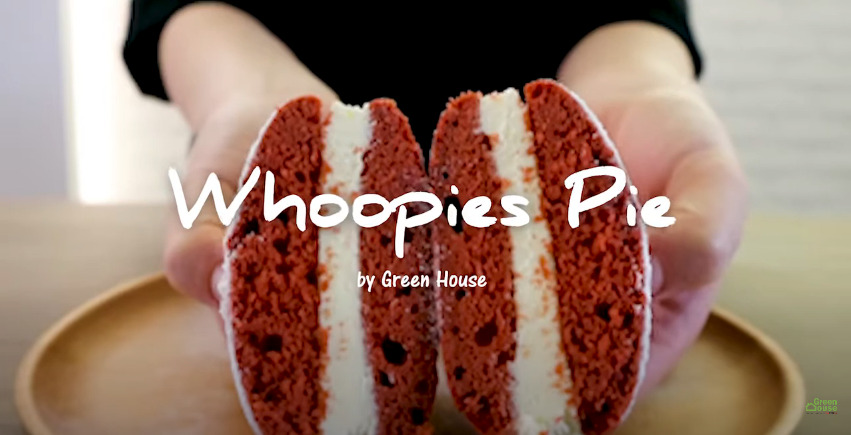 Red Velvet Cake
113gm Unsalted Butter
200gm Brown Sugar
1gm Salt
50gm Eggs
1 tsp GH Vanilla Flavour
2 tsp GH Red Velvet Emulco
240gm Cake Flour
3gm Baking Soda
120gm Milk
Cream Cheese Frosting
180gm Cream Cheese
81gm Icing Sugar
117gm Unsalted Butter
27gm Whipping Cream
1 tsp GH Vanilla Flavour
Red Velvet Cake
1. Preheat the oven to 180°C. Line up a baking tray with parchment paper.
2. Beat the unsalted butter, brown sugar and salt till creamy and fluffy.
3. Slowly add in eggs, GH Vanilla Flavour and GH Red Velvet Emulco. Mix well.
4. Sift in the cake flour and baking soda.
5. Last, pour in the milk and mix till well combined. Place the cake batter into a piping bag with a round tip nozzle. Pipe the batter in a round shape around 5 cm diameter onto the prepared tray.
6. Bake for 15 minutes or until it is cooked. Remove from the oven and let it cool completely.
Cream Cheese Frosting
1. Beat the cream cheese, icing sugar and unsalted butter till creamy.
2. Add in the whipping cream and GH Vanilla Flavour; mix till well combined.
3. Place into a piping bag with desired nozzle. Pipe the frosting onto the round cake and sandwich them.
4. Dust with some snow powder on top and serve well.